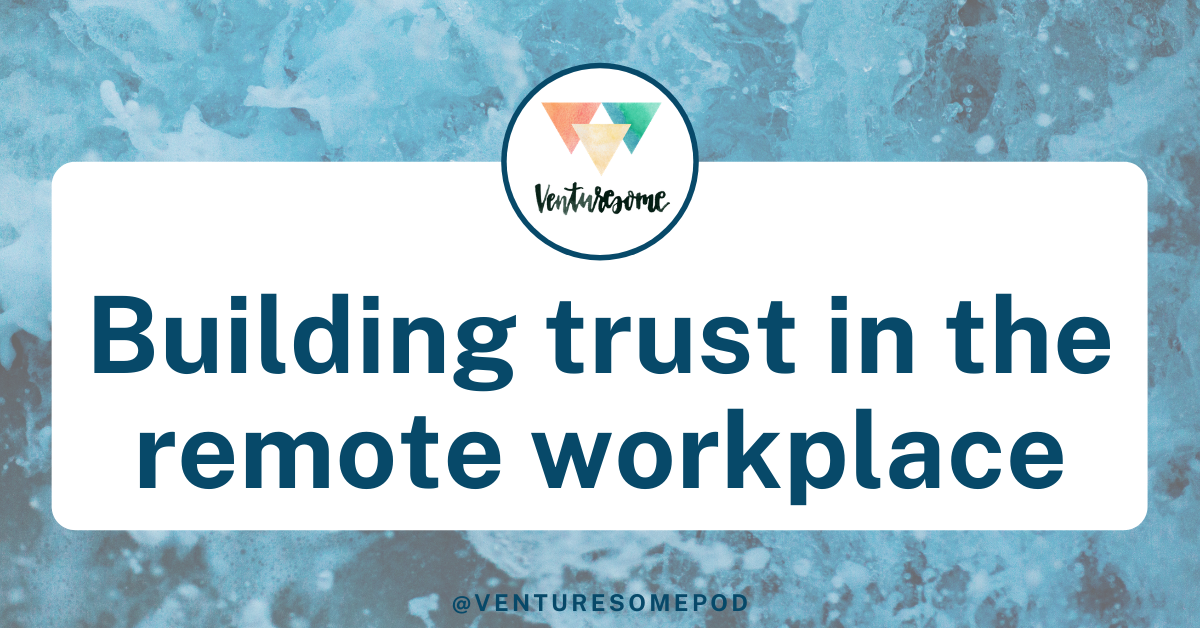 Trust. Credibility. Respect. Transparency. Communication.
Building strong relationships with your coworkers, managers and senior leaders will be critical to your success during your tenure with an organization. And, if you're working remotely, it's a little bit harder to build those relationships.
Here are five tips from eight professionals who work in a variety of industries including health care, law, nonprofit, education and business on how you can be intentional in your actions to build relationships and develop trust with your new colleagues.
1. Join the social events.
You might not love Zoom happy hours, but it's important to make an appearance and engage with your new colleagues — even if you only stick around for 20 minutes.
"Even as an introvert, I recognize the importance of being intentional with making connections," said Jon Humiston, an instructional designer at ansrsource.
Their company has a Yammer group for socializing and monthly virtual social hour.
"Making personal connections is challenging when folx aren't popping in and out of offices or bumping into each other in the hallway," they said. "It's important to take the time to participate, so my colleagues and I can get to know each other."
Octavia Carson, Esq., judicial law clerk at the U.S. Department of Justice, said virtual events — including game nights, happy hours and Christmas parties — and social distanced outings helped facilitate connections among her team.
"I believe you build relationships by taking time to get to know your colleagues outside of work," she said.
2. Spark small talk.
Share personal updates every so often to help people get to know you.
"They don't need a rundown of everything you did over the weekend, but a small tidbit can humanize you and possibly even allow someone to connect with you one-on-one about a shared hobby or interest," said Matt DeVries, marketing director at the Midland Business Alliance. "It helps create that sense of camaraderie in the workplace without sharing a workspace."

Tanjae Chairse, media coordinator at Gage Cannabis, recommends asking your colleagues questions beyond the 9-to-5.
"For instance, my counterpart lives in Canada. I ask her about Canadian culture all the time," they said. "Another connection I made with a coworker was telling my team about my pronouns. Through that, a colleague reached out to me and we connected over being queer. Small tidbits like that can lead to camaraderie."
When communicating through email or chat, be conscious of how your words may be perceived.
"Be careful with your tone in your communications, especially if the team has not had a chance to get to know you yet" Humiston said. "Sarcasm can be funny, but it doesn't always translate well in written communication."
3. Be open.
One of the challenges of working remotely is that all interactions have to be intentional.
"Solid relationships will be established through honesty and trust, but interaction will be limited," said Myla Edmond, associate vice president for communications and marketing at California State University-Dominguez Hills. "This will require possibly being more open sooner than you may have been when you were engaging with people daily and in-person."
Liz Rouech, communications specialist at Bastian Solutions, encourages new remote employees to ask questions. While you may feel awkward sometimes, the perfect time to ask questions is in your first few weeks and the team is expecting them.
"A new person with 100 questions makes a much larger impression than one who says nothing," she said.
Liz recommends doing introductions in new meetings and letting people know you're available to chat all day, essentially creating a "virtual open door" policy.
4. Do the work
If someone needs help, offer to assist, says Anna Kendall, social media specialist at Priority Health.
"Volunteering to quickly edit something or take on another small project can go a long way toward building goodwill with your coworkers," she said.
Erik Schreur, veteran engagement and compliance coordinator and Habitat for Humanity of Michigan said he quickly earned trust and respect with his colleagues by taking initiative.
"The single greatest way I have found to build relationships in a virtual environment is having 'working meetings' — essentially a block of time to just have a video call open and chat with your colleagues while working independently or together. These working meetings in a way create the illusion of being in the office. Keep your camera on though. Nothing kills a virtual call's energy faster than everyone turning off their cameras."
5. Avoid assumptions.
"Don't assume everyone's gender identity based on their name or the way they are dressed," Humiston said. "If you're not sure what pronouns a person uses, ask! I also put my pronouns in my email signature, so my colleagues knew what they were."
They also recommend checking to make sure you are pronouncing names correctly, especially if you work for a global company.
What are your tips for building trust, developing relationships and strengthening credibility in the remote workplace?
RELATED:
Blog post: How to rock your remote job

Patreon download (all tiers): Building trust with your new coworkers
This download includes an outreach template and 10 questions you can ask to build relationships and trust with your new coworkers.