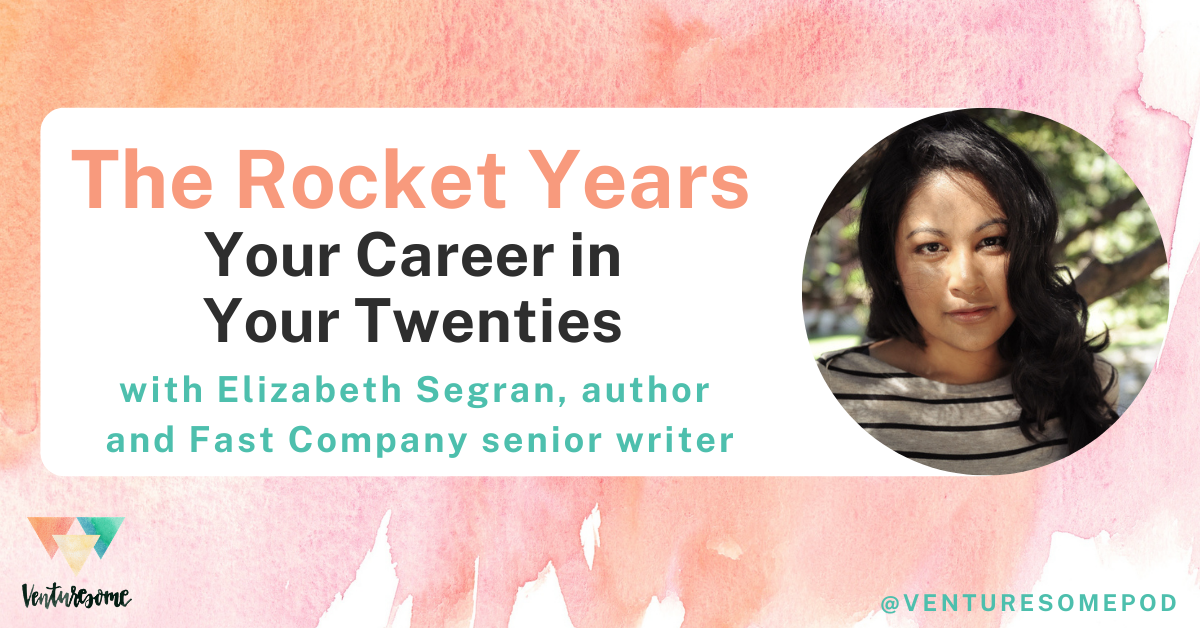 The Rocket Years with Elizabeth Segran
The actions you take in your twenties — in your career, relationships, health and more — can set the trajectory for the rest of your life.
Fast Company senior writer Elizabeth Segran describes your twenties as a rocket. If you adjust only a few degrees when you launch, it can completely change where you land.
Elizabeth's book, The Rocket Years: How Your Twenties Launch The Rest of Your Life*, reviews eight areas of your life you can focus on developing in your twenties to thrive in the rest of your life. These areas are:
Career
Hobbies
Fitness
Marriage
Family
Friendship
Politics
Faith
In this episode, I talk to Elizabeth primarily about your career in your twenties, as well as hobbies and politics. However, all of these areas are important to your well-being, success and happiness.
Setting the trajectory of your career in your twenties
Do dream jobs exist? Elizabeth makes a great point in her book about the high expectations we have for our careers: When your first start out, your career ambitions are theoretical. You don't yet have the experience to know if you like a job in practice. Internships, jobs and hands-on experiences can serve as a roadmap for your future.
When I graduated from college, I wanted to work at a PR agency. Yet, I didn't really like my first job at an agency (and it took me months to admit it). The work, which focused on business-to-business communications and marketing, wasn't satisfying or enjoyable.
However, that first job helped set the trajectory for the first decade of my career and gave me a lot of valuable skills in writing, editing, emotional intelligence and project management. Looking back, many of my early career experiences helped get me where I am today.
If you enjoyed that video, you can find more on the Rocket Years website.
Adjusting your course as a twenty- or thirty-something
Elizabeth says in her book, "People who thrive simply refuse to accept situations that make them miserable: they choose to keep learning, growing, and working toward happiness all their lives."
This is a really important point, especially in your twenties and thirties. Curiosity keeps you on the path of growth. If you're not thriving in a job or a relationship, then adjust course. While change can be scary, it also can be empowering.
You don't have to make an abrupt change. If you're not happy in a job, call up a trusted mentor who can talk you through the challenges you're experiencing. They can give you fresh insights and advice. If you're feeling burned out in your job, look at developing other areas such as hobbies, faith or friendships.
Building momentum and advancing your career
As you build momentum in your career in your twenties and thirties, remember to have balance. Broadening your perspectives through a new hobby or your faith can help you be more creative and energized when you work.
And while you're advancing your career, remember to help those following in your footsteps. Mentorship is incredibly important to me. I often speak to classes at CMU and other universities and I serve as the professional advisor for MSU PRSSA.
Explore where you've landed
Your twenties can't be all work and no play. Elizabeth shares why areas like hobbies, fitness, faith and politics can be important areas of focus.
A few things I've tried in my twenties and thirties:
Watercolor painting. In the past year, I've taken up painting with the help of Let's Make Art — which provides outlines and YouTube videos you can use for free (or you can order kits that come with the paints too, which is how I started). I honestly don't feel like I'm very good at it. But, it's also nice to have a creative outlet where I don't have to be perfect.
Dog agility. Years ago, I took an eight-week agility course with Scout, my German Shepherd. In addition to being a workout, it was a great activity to help me strengthen my relationship with my dog as well. I recently adopted a puppy from the shelter and spending time training her is an enjoyable outlet.
Barre. Fresh out of college, I took my first barre class. Honestly, I wasn't sure I'd ever go back. It was incredibly hard. I kept at it though and it eventually became a favorite workout that I crave.
Photography. I love capturing photos of animals and I've volunteered at local shelters and rescues to capture portraits to help make pets more adoptable. I also showed horses for over 10 years as a child and teen, so I occasionally take photos of horses for friends. I also love capturing Pure Michigan landscapes, such as lighthouses, lakes and sunsets. I'm always proud when I look at the canvases I've printed for my walls.
I'd love to hear about your career, hobbies and side gigs. Email venturesomepodcast@gmail.com to share your story.
Listen to Venturesome for the full conversation
And because this is a new podcast, please take a moment to leave a review after the episode if you enjoyed this episode about your career in your twenties.
If you just joined us, listen to our first episode "Gone Girl: Questions To Ask Before Leaving Your Job with Beth Bryce of Daring Circle Ranch."
*As an Amazon Associate I earn from qualifying purchases.